Messages of Despair
Messages of Hope
A Guide to Recovery of
Eating Disorders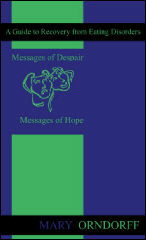 Purchase Book

It is my hope that this fourth edition will serve as a beacon for clinicians, families, and people with eating disorders alike.


Eating Disorders are dangerous, serious illnesses. Many deaths caused by eating disorders are not listed on the death certificate. Every organ in the body is compromised by eating disorders.
Help should be obtained as soon as an eating disorder is detected. This can include psychotherapy, medical, and nutrition.
Signs of an eating disorder include:
Mood swings
Refusal to eat normally or at all
Dental problems
Preoccupation with weight and food
Social isolation and withdrawal
Low self-esteem
Depression and fatigue
Secretive behavior and denial
Inability to concentrate
Starvation or obesity
Respiratory and heart disorders