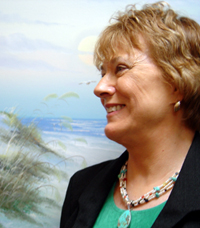 Mary Orndorff, LCSW, LMFT, has been in private practice for more than 18 years. She has worked with eating disorder issues for more than 20 years.
Her practice is comprised of Family therapy, Individual therapy, Marital therapy, Play therapy, Group therapy and Hypnotherapy.
She works with depression, anxiety, grief and loss, low self esteem, stress management, weight, eating disorders, behavioral problems with children and more.
She is available to conduct workshops and classes on self-esteem, assertiveness, stress management, relationships, parenting and more.
Education:
Master of Social Work, 1984
The University of Texas at Arlington. Arlington, TX
Alpha Delta MU; National Honor Society
Licenses and Certifications
Certified Social Worker
Advanced Clinical Practitioner Private Practice
Texas Marriage and Family Therapist
Publications
Orndorff, M. "Eating Disorders, Implications For the Working Woman," Women and Work, Arlington, TX Women and Work Research Center, 1985. Paper presented.
Orndorff, M. Messages of Despair, Messages of Hope, A Guide to Recovery From Eating Disorders, Garkake Press, Ft. Worth, TX.